A Week in the Life of the Part-Time Coding Bootcamp [INFOGRAPHIC]
Embarking on a coding bootcamp journey can be life-changing, but it's not always easy to find the time and flexibility to pursue it. That's where Tech Elevator's Part-Time Coding Bootcamp comes in. Designed with caregivers, moms, and individuals who can't quit their day jobs in mind, our program offers a flexible and achievable path to a rewarding career in tech.
In this blog post, we'll walk you through a typical week in our part-time coding bootcamp, providing insights into how you can set yourself up for success and build a routine that works for you!
Set yourself up for success. 
Before diving into the week, it's essential to establish a solid foundation for your part-time coding bootcamp journey. Here are a few tips to help you get started:
Commitment: Understand that this program requires dedication and commitment. While the part-time format allows for flexibility, it's crucial to allocate sufficient time (20-25 hours) each week to study and practice coding concepts.
Clear Goals: Set clear goals for what you want to achieve during the bootcamp. Identify why you want to acquire these specific skills and the projects you want to build. This will provide you with a roadmap to stay focused and motivated throughout the program.
Support System: Inform your family, friends, and colleagues about your commitment to the bootcamp. Seek their understanding and support during this journey, as their encouragement can make a significant difference in your success.
Build a routine and schedule.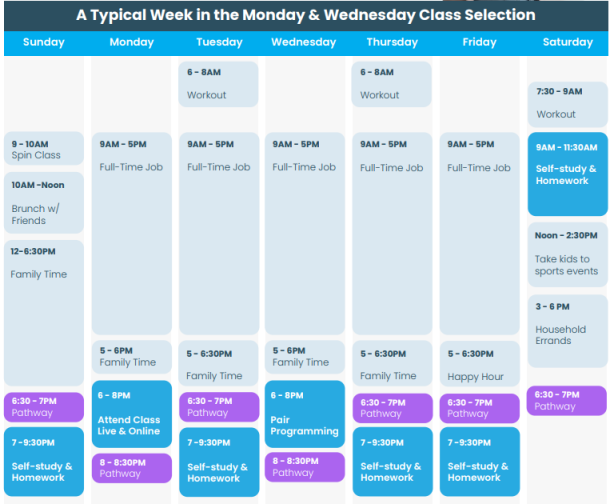 To make the most of your part-time coding bootcamp experience, it's important to establish a routine and schedule that works for you.
Dedicate a few (2-3) hours each evening to self-paced study sessions. Utilize Tech Elevator's online platform, which offers a comprehensive curriculum, coding exercises, and resources to support your learning journey. Depending on your preferred instructor-led class schedule, you can allocate your study time accordingly.
Option 1: If you choose the Monday and Wednesday (or Tuesday and Thursday) classes from 6-8pm, use your weekday mornings or afternoons to focus on work or personal commitments. Then, in the evenings, dive into self-study, reviewing concepts, completing coding exercises, and exploring additional resources.
Option 2: If you prefer a consolidated instructor-led session, reserve your Saturdays from 9am to 1pm for immersive learning. This block of time allows you to engage in live sessions with expert instructors, collaborate with peers, and receive real-time guidance on coding concepts and projects. Plan your weekdays accordingly, ensuring you have enough time to review previous lessons and prepare for the upcoming Saturday session.
By considering the different instructor-led class time options, you can select the schedule that best aligns with your availability and preferences. Remember to prioritize consistency and regular study habits throughout the week, regardless of the specific class days you choose.
Download the full graphic.
Interested in seeing a full visual representation of a week in the life of our part-time coding bootcamp? Download our full graphic for a detailed breakdown of each day, including specific activities and recommended study time slots. This visual resource will serve as a handy reference to help you plan your schedule effectively.
Tech Elevator's Part-Time Coding Bootcamp is tailored to individuals who have outside responsibilities and can't quit their day jobs. By establishing a routine, setting clear goals, and allocating dedicated study time, you can maximize your learning experience and progress towards a rewarding career in tech. Remember, success in this program comes from your commitment and dedication. Embrace the flexibility, utilize the resources provided, and watch as your coding skills flourish.
Ready to embark on your part-time coding bootcamp journey? Download the full graphic to visualize a week in the life of our program and start planning your path to success today!
Written by: Meredith Denbow, Part-Time Program Director, Tech Elevator