Empowering Insights: Unveiling Tech Elevator's 2023 Alumni Report
Imagine a future where your career skyrockets, your earnings flourish, and your journey becomes an inspiring narrative of success. The world of technology is not just for the chosen few; it's for those willing to take the leap, challenge themselves, and embrace the power of coding skills. Tomorrow is shaped by the decisions you make today, and our Tech Elevator alumni are living proof.
Alumni stories are more than just success tales; they are the cornerstone of our evolution and understanding of the ever-changing tech landscape. Their feedback fuels Tech Elevator's commitment to continuous improvement, ensuring that we adapt and mold our full-time and part-time coding programs to the future of work–hence why we hold our annual alumni survey results to the utmost importance.
A Panoramic View: Alumni from Across the Nation
The response to our 2023 survey was overwhelmingly positive, with more than 850 alumni passionately sharing their experiences – the highest participation rate we've ever seen. These eager responses underline the unwavering connection our alumni hold with the Tech Elevator community.
This year's annual report goes beyond mere statistics; it transcends geographical boundaries, capturing the narratives of our alumni from our physical campuses spanning Cleveland, Columbus, Cincinnati and Pittsburgh, and our National Live Remote Program who live all over the nation.
Tech Elevator takes immense pride in fostering a diverse and inclusive environment.
As our survey results highlight, our alumni community embodies this commitment. A vivid tapestry of gender identities is woven into our community, with 65% identifying as male, 29% as female, and 4% identifying as non-binary or transgender. We believe that the natural aptitude for learning to code is distributed evenly throughout the population, but access to opportunity is not. We're proud to offer scholarships to historically underrepresented groups creating greater accessibility to careers in technology.
The average age of our alumni, a vibrant 31 years, showcases the dynamic range of experiences and perspectives that make our community so rich and multifaceted. Our alumni come from various walks of life, bringing diverse insights that enrich every corner of our ecosystem. We believe that this diversity drives innovation, sparks creativity and drives new ways of thinking.
Insider Perspective: Unpacking the Top 4 Insights of Tech Elevator's 2023 Alumni Report
The alumni survey outcomes are not just individual successes; they collectively shape the evolving landscape of the tech industry. Let's explore the top insights gleaned from this year's survey, painting a comprehensive picture of the transformative power of Tech Elevator's educational approach.
1. Alumni graduated feeling prepared for a job in tech.
An exceptional 85% of respondents felt 'prepared' to 'well prepared' for their initial role, emphasizing the efficacy of Tech Elevator's curriculum. Notably, the Pathway Program™, a cornerstone of our approach, left an equally strong impression. A resounding 85% of respondents expressed feeling 'prepared' to 'well prepared' for a tech career through the Pathway Program™. This dual reinforcement underscores the holistic approach we take in preparing our graduates for every facet of the tech industry.
Our survey reveals that 68% of alumni have not changed employers—a clear demonstration of their satisfaction and engagement with their current workplaces. The reasons for changing companies culminate in the importance of growth and opportunity. Alumni cited increased compensation, career development, benefits, culture fit, and flexible working environments as top motivations for transitioning to new roles.
2. Hybrid work models are on the rise.
In an era marked by rapid change, the nature of work itself has transformed. Our survey results reveal that 44% of alumni report engaging in hybrid work arrangements, underlining the flexible nature of modern employment. Within these evolving dynamics, it's noteworthy that 55% of in-person graduates and 47% of National Live Remote (NLR) graduates are now required to live near their workplace. The idea of fully remote work has evolved, with an increasing number of alumni and businesses embracing a hybrid model that combines the best of both worlds. In fact, a recent AT&T study predicts a remarkable shift in the work model, with the hybrid approach projected to grow from 42% in 2021 to 81% by 2024. Notably, prominent industry leaders like Adobe, Salesforce, and Spotify have already embraced the hybrid and remote paradigm, cementing the trend's significance.
Tech Elevator's impact is perhaps most pronounced in the diverse roles our alumni are thriving in. Our survey highlights a notable surge in Data Engineering and Data Analyst positions, underscoring the expanding horizons of the tech industry. When it comes to current roles, a majority (66%) are employed as programmers or software engineers, reflecting the robust foundational skills imparted by our programs. Beyond this, a significant number are engaged in data-related roles (11%), product management/business (6%), DevOps (5%), and testing/quality assurance (2%).
Mastering the Tech Toolbox: Skills That Matter
In the dynamic landscape of technology, skillsets matter more than ever. Our alumni wield an array of technologies: SQL, JavaScript, HTML/CSS, and Bash/Shell are the most commonly used general technologies. Notably, ASP.NET/Spring reigns supreme in backend development, while Bootstrap, React.js, and Angular dominate the frontend. In the realm of testing, JUnit and Jest emerge as preferred frameworks. And when it comes to cloud platforms, AWS takes the lead, followed by Azure. Most programmers are interested in new languages and spend the time learning them on their own. Tech Elevator supports our alumni with current technical and professional resources to stay competitive in the workforce.
3. Tech Elevator graduates reach six-figure incomes on average.
One of the most compelling aspects of our survey is the trajectory of our alumni's career growth. A staggering 63% of respondents who are three or more years post-graduation have experienced promotions. On average, it takes Tech Elevator alumni just 1.7 years to secure that first promotion, underscoring the rapid acceleration of our graduates within the tech industry. Promotions span a spectrum from individual contributor roles (84%) to managerial positions (7%), showcasing the diverse opportunities available to our alumni.
As alumni journey through the years, they witness a steady increase in their income. On average, around year five post-graduation, our alumni experience a transformative leap, reaching an average six-figure income. This financial growth signifies the tangible benefits of investing in one's education and skills, and it's a testament to the value of Tech Elevator's comprehensive training.
4. Alumni remain connected to our community and each other.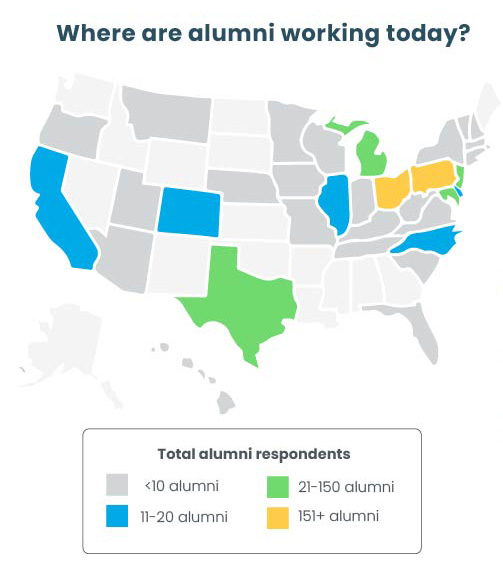 The sense of unity within the Tech Elevator community is palpable. With an average score of 0.7 out of 1 (1 being highly connected), our alumni's connection to Tech Elevator remains strong long after graduation. The desire for engagement is evident, with alumni expressing interest in various forms of interaction. From alumni meetups and tech gatherings to mentoring students and participating in Q&A panels, the enthusiasm to help others on their career change shines through.
As the tech landscape continues to evolve, so do the learning needs of our alumni. Emerging technologies such as artificial intelligence, machine learning, cloud computing, data science, blockchain, and quantum computing pique their interest. The hunger for continuous learning is tangible, with alumni seeking guidance on staying updated on the latest technologies, acquiring new skills, and navigating the intricacies of soft skills like communication, teamwork, and problem-solving.
Alumni Interview with Virginia Anderson: From Relationship Manager to Coding Maestro
As we navigate through the remarkable insights of the 2023 Alumni Survey, Virginia's narrative remains a touchstone, grounding us in the transformative power of resolute ambition and relentless curiosity. In turn, we hope this encourages others to embark on their path to success.
With a decade-long career as a relationship manager under her belt, Virginia's shift to the realm of coding was a leap of faith. While her professional background provided a strong foundation, it was Tech Elevator that truly ignited her journey into computer programming. Within the nurturing confines of Tech Elevator, Virginia found herself part of a supportive community that valued mentorship, shared success stories and prioritized providing ongoing support and resources.
As Virginia navigated the job search phase, Tech Elevator's Pathway Program™  emerged as a game-changer. The program's strengths and weaknesses training and mock technical interviews not only bolstered her confidence but also refined her skills. Expert guidance in crafting a compelling resume proved instrumental in presenting her qualifications effectively. Through the matchmaking process, she gained valuable interview practice, enhancing her communication skills along the way.
The power of Tech Elevator's supportive community and alumni network was evident from the start. A celebratory "you made it" session marked her entry into the program—a demonstration of Tech Elevator's commitment to its students. This camaraderie extended to her workplace, where a fellow alumnus became her colleague as Associate Software Engineers at Insight, her current employer. The program's mentorship focus and practical Capstone projects prepared her for the real-world challenges she encounters daily.
Reflecting on her journey, Virginia offers valuable insights to current students and recent graduates seeking employment. "While the job market's landscape may shift rapidly, dedication and commitment to the program remain paramount." Virginia emphasizes the significance of the Pathway Program™, praising it as a resource that guarantees a return on investment. Through hard work and embracing opportunities, she experienced firsthand the transformative impact of Tech Elevator and the value of investing in tech skills for the modern workforce.
Honoring Alumni Feedback & Driving Excellence
Our alumni's qualitative feedback is invaluable in driving improvements. Many express gratitude for the life-changing experience Tech Elevator provides. Constructive suggestions center around curriculum relevance, career support, and strengthened alumni engagement. This reinforces our commitment to creating an evolving educational ecosystem that not only meets the needs of the industry but also empowers our graduates to thrive.
The alumni community echoes our commitment to excellence. Tech Elevator isn't just an educational institution; it's a transformative journey that focuses on growth and elevates ambitions. From embracing hybrid work models to mastering cutting-edge technologies, our alumni stand as testaments to the power of unwavering dedication. Through their stories, we recognize that our commitment to continuous improvement is not just a goal—it's a way of life that propels our graduates toward a future where success knows no bounds. You can view the full report HERE.
Ready to Forge Your Own Path?
Whether you've already graduated from our coding bootcamp or are just starting to shift careers, Tech Elevator provides the knowledge, community, and support you need to thrive in the tech industry. With a diverse and inclusive environment, top-notch curriculum, and a network of dedicated alumni, your journey to success starts here. Join us in shaping the future of technology, one aspiring coder at a time.
Discover Your Tech Elevator Journey Today!
Written by: Margaret Green, Alumni Success Team